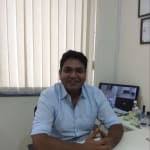 Dr Ankur Kumar Sriwastwa
Dr Ankur Kumar Sriwastwa, M.D.S completed his graduation from M S Ramaiah Dental college and hospital, Bangalore in 2011 and post graduation in endodontics, conservative and aesthetics dentistry in year 2016 from M R Ambedkar Dental College and Hospital, Bangalore. During his ten year long stay in Bangalore for his education and a brief stint in a multinational chain of dental clinic, he learned and honed his clinical skills and aquired knowledge about good and ethical practice.

He has many scientific articles to his credit both in national and international journals and has been invited as guest speaker in various National conferences. He is a specialist consultant in many clinics in Ranchi for endodntics and cosmetic dentistry and is also attached to Nagarmal Modi Seva Sadan .

Dr Ankur is a strong believer in "learning never ends" and keeps on upgrading his knowledge and skills while attending conferences and dental education programs across India and abroad.

He believes in informed choices when it comes to treatment procedures rather than parenting his patients into one. His warm and friendly demeanour helps patients open up and make queries regarding procedures and treatment options.